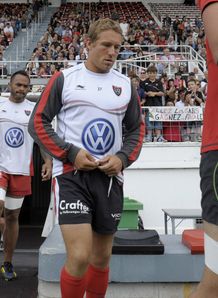 Jonny Wilkinson has admitted that getting a first taste of a European Cup Final at the age of 33 represents all he has to play for.
The former England international will be key to Toulon's hopes of victory in Saturday's final against French rivals Clermont.
"There's no doubt that at this stage in my career, this is all I have got to play for," said the 2003 World Cup winner.
"That gives you a fair idea of the importance of it to me. I am playing in a one-game-at-a-time situation.
"To actually get a shot at something like this at this stage in your career is amazing."
Wilkinson, the leading points scorer in the Top 14 this season, has known only disappointment in Europe.
He has played in two losing Challenge Cup Finals and last year's defeat in the Top 14 Final to Toulouse.
But he was a key player in this season's European Cup quarter-final and semi-final wins over Leicester and Saracens respectively.
"It was my first semi-final a few weeks ago and this is my first final," said Wilkinson.
"I realise every day the luck that I have had being here and with this squad which has given me the opportunity. I want to make the most of it.
"I am proud to be here, we have done a lot of work this season.
"This is all I have got to play for now in my career and therefore it is the biggest thing I've got."
"I've never been one to think massively about form and what that means but I guess I can say that I feel good about where I am," added Wilkinson.
"I am really enjoying the group I am with. I have been offered the opportunity to go out and be myself.
"I push the boat out each week and try to offer something to this team because there are a lot of guys who can offer so much as well. These guys are inspiring me to try and get better and better.
"I have to keep trying to get better. I am always going to try that anyway but it is great to have that environment around you that pushes you to keep searching for more from yourself."
Clermont are the favourites on Saturday as they attempt to become the first team to go through the campaign undefeated.
And Clermont captain Aurelien Rougerie gave his own preview ahead of the final.
"Discipline is the key word to win the match," he said.
"With Jonny Wilkinson and their kicking game we are going to have to be very disciplined. We are very focused and we are aware of that.
"If you want to win the Heineken Cup final, it is in the detail. We have to be very mindful in everything we do."