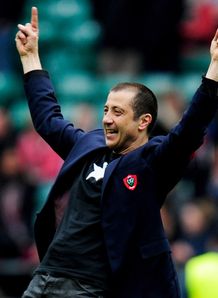 Never short of an entertaining soundbite, Toulon president Mourad Boudjellal claims he has already accepted second place in Saturday's Heineken Cup Final.
In an obvious attempt to deflect the limelight away from his own star-studded squad, the outspoken comic book tycoon has lauded the depth of Clermont's resources ahead of this weekend's showdown at Dublin's Aviva Stadium.
"We are up against a very impressive team," said Boudjellal earlier this week.
"We would be stupid to think we are better than Clermont. So we are preparing to lose. We will be the runners up and it's not that bad."
Of course, Boudjellal is nothing if not mischievous with his words, and nobody else in the red and black will be expecting a loser's medal.
Clermont won 24-21 in the first Top 14 meeting this season, but the pair shared the spoils in a 26-26 stalemate in Marseille last month, indicating there's not much between these two wealthy units.
Jonny Wilkinson scored 10 points when the sides last met, and the former England pivot is certain to have a say in the outcome on Saturday.
"There aren't many teams in Europe that can claim anything like the amount of bulk Clermont have, but Toulon are definitely one of them," wrote former Munster and Ireland back-rower Alan Quinlan in his column for the Irish Times.
"If they can keep it nip and tuck, they have an ace up their sleeve, because for all their vast array of talent, I still come back to one man. I come back to Wilkinson. He just stands out.
"Clermont are a better-balanced team but Toulon have the match-winner in the number 10 shirt."
Clermont may feel destined for victory, but coach Vern Cotter admits his side can't afford to let Wilkinson's left boot dominate a game that may be decided by kicking.
"For us, it is about being able to get fast ball, play a high tempo, keep them moving," said the Kiwi.
"That's our basic game plan. They are a very physical team, they dominate and then create gaps and exploit them."
Clermont can count on the trusted boot of Morgan Parra should it come to a kicking duel, with the French scrum-half leading Wilkinson in the tournament's top points-scoring charts.