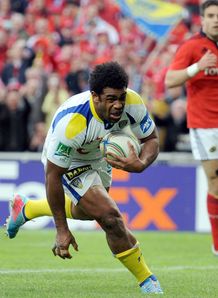 Christophe Dominici believes that Clemont's superior attacking abilities will give them the edge over Toulon in the Heineken Cup final.
While the two French outfits regularly face off in the Top 14, Dominici explains that an occasion the magnitude of a European final is quite a different prospect.
"A final between two French clubs means a shortage of surprises because each team knows everything about their opponent," Dominici told the official ERC website.
"But while it does not take away any of the flavour of being a European final the approach to the match does differ. What gives it a European cachet is the media coverage - there are more journalists, requests for interviews and you accept more phone calls."
Clemont finished the Top 14 season one point ahead of Toulon and edged their rivals in head to head clashes, with Clemont victorious on home soil and having grabbed a draw away from home.
Dominici feels that it is attacking weapons the likes of Wesley Fofana and Napolioni Nalaga that make Vern Cotter's men the favourites.
"On 18 May the pressure will be on Clermont shoulders - as it was in the semi-final against Munster - but they are favourites because they have the greater attacking edge in players like Nalaga, Sivivatu and Fofana," explained the 40-year-old.
"Toulon do not have players capable of opening up a defence when matches are tight. You saw that against Leicester in the quarter-finals and Saracens in the semi-finals.
"They are very strong on the fundamentals but lack this spark - and that is why they have recruited Bryan Habana and Drew Mitchell from next season."