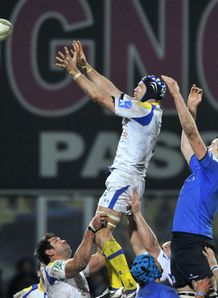 Clermont flanker Julien Bonnaire insists that there will be no favourites when his side meet Munster in the Heineken Cup semi-final.
The 2011 French champions impressed with their convincing quarter-final victory over Montpellier earlier this month, and have the advantage of hosting Munster on French soil at the Stade de la Mosson.
Bonnaire insists however that there will be no favourites when the two sides clash on Saturday, stating this side will have to be patient to advance to their first final.
"We made a few mistakes in defence that we could have avoided," said Bonnaire to ERC Rugby.
"We will have to be better and try to not be behind by one point two minutes from the end of the game. On that exact point we still lacked a bit of experience and we must be more constant during 80 minutes.
"And I don't see us as being big favourites for this game - Munster also have a pretty good side - and in these kind of knock-out games it's always 50/50.
"We will probably have more fans in the stadium but their fans travel a lot and we fully expect a huge battle with massive desire. I think we have the team to reach the final and since the start of the season we have been able to make beautiful performances and prove it."
"We often play Irish teams so we can better study their strategies. All Irish teams play the same kind of game and they're always hard to beat because of their high level of determination.
"We will have to be patient to build a victory and be strong on the basics. We know they are very strong in the front lines and if we cannot match them in this area it will be tough.
"There is a very healthy concurrence between all the players. We all get along very well and you can see that out on the pitch. And, unlike previous years, we do not have injuries to key players and that has helped us to be mentally and physically fresh."