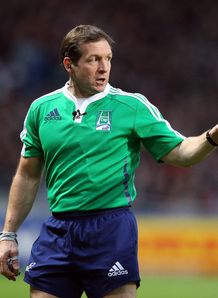 The ERC have revealed the match officials for next week's Heineken Cup and Amlin Challenge Cup semi-finals.
A vastly experienced quartet of referees with a total of 269 European club rugby matches between them will be in charge of next weekend's high-profile games.
Nigel Owens of Wales has been appointed to referee the first of the Heineken Cup semi-finals between Clermont and Munster while the following day, Ireland's Alain Rolland will be in the middle for the clash of Saracens and Toulon at Twickenham Stadium.
The Heineken Cup and Amlin Challenge Cup match official appointments were made following a meeting of the ERC Match Officials sub-committee. The meeting reviewed match official performances across all relevant tournaments in conjunction with feedback from the referee managers in each union and from club coaching staff.
Heineken Cup semi-finals (Kick-offs local time)
Clermont Auvergne v Munster, Stade de la Mosson (18.00)
Referee: Nigel Owens (Wal)
Assistant referees: Leighton Hodges (Wal); Ian Davies (Wal)
TMO: Gareth Simmonds (Wal)
Citing Commissioner: Douglas Hunter (Sco)
Saracens v Toulon, Twickenham Stadium (15.00)
Referee:Alain Rolland (Ire)
Assistant referees: Peter Fitzgibbon (Ire); Andrew McMenemy (Sco)
TMO: Marshall Kilgore (Ire)
Citing Commissioner: Denis Templeton (Ire)
Amlin Challenge Cup semi-finals: (Kick-offs local time)
Perpignan v Stade Francais, Stade Aimé Giral (21.00)
Referee:George Clancy (Ire)
Assistant referees: Dudley Phillips (Ire); Marius Mitrea (Ita)
TMO: Jim Yuille (Sco)
Citing Commissioner: Ian Goodall (Sco)
Leinster v Biarritz Olympique, RDS Arena (14.30)
Referee:Wayne Barnes (Eng)
Assistant referees: Greg Garner (Eng); Paul Dix (Eng)
TMO: Geoff Warren (Eng)
Citing Commissioner: Ray Wilton (Wal)