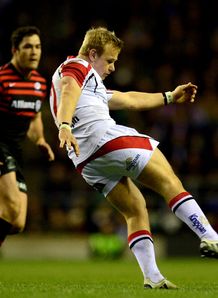 Related links
Also see
Ulster are facing an anxious wait over whether Luke Marshall will be able to play again this term after he suffered another head knock on Saturday.
The 22-year-old Ireland international, who shot up the ranks in his country over recent months, left the field against Saracens over the weekend.
That was his third head injury in recent times and that brings doubts over whether he should be allowed back into action for the season run-in.
Marshall was concussed twice during the Six Nations yet Ulster coach Mark Anscombe insisted that the centre was fit to play in their quarter-final.
"Let the medical team, who are experts in that, tell us this week what the story is," he told the Belfast Telegraph over whether centre Marshall will return in the Ulster jersey this season.
"It's a concern but we have good medical people involved in this team and we'll do everything that's right for Luke."
Marshall said on Twitter following his latest knock that he was 'feeling grand'.