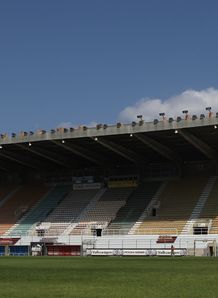 Toulon have been force to begin alterations on Stade Felix-Mayol in order to bring it in line with the requirements for the Heineken Cup quarter-finals.
Toulon are set to host Leicester on April 7, but need to increase the capacity of their home ground to conform with ERC regulations that require quarter-final venues to have a minimum capacity of 15 000.
Stade Mayol can hold 14 700 spectators and Toulon applied for exemption to the regulation, but in a press release on Wednesday, the French club confirmed that their request had been denied.
The mayor of Toulon has however presented a plan to increase the stadium's capacity to 15 020.
The ERC will inspect the stadium on February 4 before the Toulon city council's safety and security officials do the same on February 7.
If the ERC do not give the changes a green light, Toulon will look to host the games at the Stade des Costières in Nimes or the Parc des Sports d'Avignon.
Toulon have lost just one game on home soil (to Racing Metro in the Top 14) in all competitions this season,