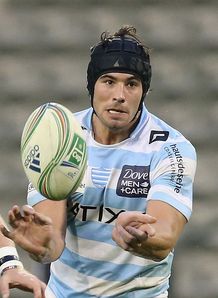 Racing Metro flank Antoine Battut has been handed a two-week suspension following his red card received against Munster last weekend.
Battut was shown a red card by referee Wayne Barnes in the fifth minute of the match Heineken Cup clash at Thomond Park for striking a Munster player with his knee in contravention of Law 10.4(a) of the IRB's Laws of the Game.
Under the IRB Sanctions guidelines,striking with the knee carries three-week penalty for low-end offences.
Battut pleaded guilty to the offence and the independent judicial officer found that the player had intentionally kneed an opponent, but he added that minimal contact had been made.
He determined that the offence was at the low end of the IRB's sanctioning regime and due to Battut's guilty plea, his remorse and his good conduct during the hearing, the judicial officer deducted one week before imposing a suspension of two weeks.
Battut will be free to play on Monday, 4 February 2013.
In a separate hearing, Rovigo centre Joe van Niekerk was banned for five weeks after being sent off for a tip tackle in an Amlin Challenge Cup game against Perpignan a week ago.