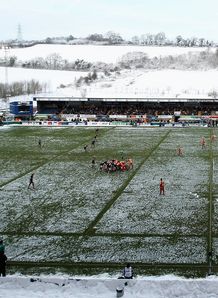 European Cup rugby chiefs insisted on Friday they had contingency plans in place, as cold weather across the continent threatened to play havoc with the decisive final round of pool fixtures.
This weekend is set to decide the quarter-finalists of the Heineken Cup, but the prospect of matches being postponed on safety grounds due to frozen pitches or because teams are prevented from travelling could yet delay the completion of the last eight line-up.
So far, all fixtures were going ahead as scheduled and tournament organisers European Rugby Cup (ERC) said they would do all they could to ensure matches in both the Heineken Cup and the second-tier Amlin Challenge Cup were played as planned this weekend.
"Throughout the week, ERC has been in regular contact with clubs to ensure all possible precautions have been made and that alternative venues are available," the Dublin-based ERC said in a statement.
"Should weather conditions or travel difficulties prevent matches from going ahead as scheduled, ERC will work with the clubs and match officials to ensure that fixtures are completed at the earliest possible time."