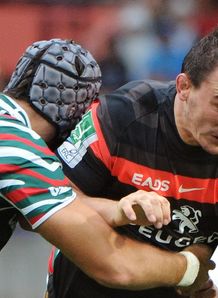 It is that time of the week again when 'Orrible Punt sits down in the Planet Rugby hot-seat to give you his calls. Brace yourself for the Heineken Cup.
Remember you can contact Russ with all your comments and questions on Twitter - @rpetty80.
Click here to compare odds on Rugby Union with Oddschecker.com!
Bar the absence of Nick Easter, Quins have opted to send their strongest XV over to France, suggesting that despite already having a home tie guaranteed, they want to keep the momentum going and also desire top seeding. His absence will likely be significant though. He has carried 65 times so far with 12 offloads and has been the 'go-to' forward for making the tough yards. There is also a great understanding with Danny Care and as a rule, any disruption of a successful 8-9-10 combination needs attention. Quins have now won 9 of their last 11 Heineken Cup matches by an average of 32-14 and 4/5 games away by 31-16. You can split Biarritz's domestic season into 3 parts. Rounds 1-4 saw them win all 4 games by an average of 27-14, rounds 5-10 were all defeats by an average of 14-24 and saw the tries completely dry up, while rounds 11-15 saw 4 wins and a loss by a rate of 20-18. To add some context, 'sections' 1 and 3 saw mostly home games (6/9) and 'section' 2 was predominantly away (4/6 away). So rather than a drastic swing in form, perhaps it should be taken that like the majority of their league, Biarritz can be expected to win most of their home games and lose the away matches. BO have also beaten English opponents in 11/12 matches by 25-15. Rain seems to be likely, hopefully not as torrential as in the Connacht game but that, home advantage and the fact that Quins don't have to win have me leaning towards a Biarritz victory at 1.91. Imanol Harinordoquy to score anytime at 10.0, Care at 5.5 and Chris Robshaw at 17.0 may prove useful prices if the weather is poor and the game is tight. Referee John Lacey was quiet last week, but has given 6 cards in his 5 HEC games this season and with 12 cards in 8 Biarritz home league matches / 5 in 4 HEC games there, I'll be punting on 2 or more cards at 3.0.
A losing bonus-point would secure a home quarter-final for Toulon and a win would see Montpellier through to the latter stages, which begs the question - is it too obvious to simply bet on that outcome? Montpellier have won 7/8 home games in the Top 14 by 28-16, with the only loss being a 25-32 defeat by Toulon. Mourad Boudjellal's all-star team have proved to be away day specialists in the league so far, winning 7/9 trips by 24-17. That's no mean feat, given how much significance a home win holds to a French side. The hosts are unbeaten on their own turf in their short Heineken Cup history, drawing 2 and winning 3 games by a rate of 24-18. Toulon have won 3/6 away games by an average of 20-23 in this competition and despite carrying for over half a kilometre when visiting Sale and Cardiff, only scored 1 try in each game. With Eric Bechu passing away this week, there will be an emotional response from the hosts and I see them winning by the 1-10 point margin. There have been no cards in the last 3 meetings between the pair at this ground, but Alain Rolland has given out 7 in his 4 matches so far, so I'd be looking to back at least 1 sin-binning. Toulon have only scored 1 of their 23 tries in the first quarter of games and both sides get approximately 2/3 of their tries after the break, so the 2nd half to be highest scoring tempts.
Much like last week, Leinster have to both win and score as many tries as possible to stand a chance of progressing. The frantic, direct method they used last week brought criticism from some, especially as the gap between the 4th and 5th tries being scored amounted to a period of 37 minutes. It should prove an even trickier proposition to rack up the tries at Sandy Park. The Chiefs have won 6/13 Premiership games at home by 23-20 and 5/7 at home by 28-17. The 2 most recent home results have been a draw and loss to Bath and Saints, however their combined record against those sides is 10 losses from 12 so they are very much their 'bogey teams'. A look at Exeter's home league record since joining the top flight, reveals they concede an average of 15 points and kept opposition teams under 20 points in 23/29 games. There is a distinct lack of teams scoring 4 tries or more against them too. Leinster have won 9/13 PRO12 games so far by 25-19 and 3/7 away by 16-22. They have beaten 26/50 opponents away in group stage games in this competition, by an average of 22-23, with a more recent record of 6 wins from 10 games by 21-15. The last 6 trips have all been low scoring with less than 40 total match points and try bonus points have been rare. Now Leinster would rightly argue that in most of those games they weren't looking for the 4 tries, as a win was enough and can also point to Clermont putting 46 points on the Chiefs home and away. Even with that in mind, conditions aren't likely to be conducive to running rugby down in the South-West and I think Exeter may frustrate the champions. I will be backing Leinster to win this one, but to also score under 4 tries.
Playing on Sunday means Munster will know exactly what is required and while the plan is unlikely to deviate too much from needing a four tries, there may be an indication of exactly how many have to be scored. Munster have won 8/13 PRO12 games by an average of 20-15 this season and 5/7 matches at home by 21-9. The Irish side have also won a dominant 48/50 home group stage games by a rate of 30-13 and the last 17 by 26-13. Racing have also lost 6/9 away games in the competition by a rate of 25-29 and their defeat by Saracens last week means focus will be back on domestic matters, with key players rested. Were this 'old' Munster, there would be few doubts that they would get the job done, especially against a possibly disinterested travelling team that played as individuals and without discipline last week. However 'new' or 'in-transition' Munster aren't as sure a bet and there may a move to traditional tactics later on, much like the home game against Edinburgh. It may be deemed sacrilege in some parts, but I believe the absence of Ronan O'Gara for Ian Keatley may actually help their cause. With 7/9 Munster tries coming in the 2nd half so far, there may be a wait but I think they will squeak through and be 'rewarded' with a trip to a top seed. Munster to score over 3.5 tries will therefore be the call from me. There have been 7 cards shown in 5 Heineken Cup games this season featuring Racing Metro and 5 in 5 for Munster. English referee Wayne Barnes has only dispensed 4 cards in 5 matches in European contests, but 15 in 7 in the Premiership and with the chance of Munster getting annoyed by a another high Racing penalty count, I'll be looking to back 2 or more cards in this match at Thomond Park.
The Tigers know that 'just' a win will be enough here, with the caveat that they would need a try bonus-point, should Toulouse pick up a losing bonus and score 4 themselves. Tigers are particularly strong at home, winning 39/46 home pool stage games by an average of 34-15 and 13 of their last 14 domestic matches at Welford Road by a rate of 27-14. In European competition, Toulouse have won 29/50 pool stage away games by 23-21 and 7/17 matches in England by 20-25. The teams have met 7 times in the Heineken Cup with Toulouse winning 4 of the last 5 games by 21-15. The Round 1 match saw a loose performance from Leicester, with some sloppy play just before half-time punished by Gael Fickou and early penalties in the 2nd half sealing their fate. That match saw a number of Tigers 'off their game' and in truth the side have not looked consistently sharp on the road all season. They will, however, take great heart from that fightback from 10-0 down in Wales and at home are a different prospect. Pre-season I really liked the 3.25 price for the hosts to top the group and will be backing them to get the job done on Sunday too, by 1-12 points at 2.38. Despite their pedigree in the tournament, there is a sense that there has been a shift in power in French club rugby and recent Toulouse away defeats at Gloucester, Edinburgh, Ospreys as well as both their first-half performances against Treviso, should give Leicester plenty of hope. The big concern for the hosts would be their habit of slow-starts but Toulouse have shown against Treviso recently that too are susceptible to this. Good luck this weekend.
Click here to compare odds on Rugby Union with Oddschecker.com!