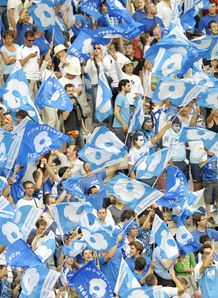 Montpellier have called on fans attending Saturday's Heineken Cup clash with Toulon to dress in white in honour of recently deceased forwards coach Eric Béchu.
Béchu, who helped Montpellier reach the Top 14 Final in 2011, passed away aged 53 on Tuesday after a long battle against illness, leaving a sombre mood in the French club's young squad.
In a statement released on Thursday, MHR asked fans to pay homage to Béchu at this weekend's crucial Mediterranean derby with Toulon.
"We must not forget that Eric loved rugby, was passionate about life and wearing white will be an expression of the joy that we had in knowing him rather than the sadness of losing him," read the statement.
"On Saturday, everyone in white."