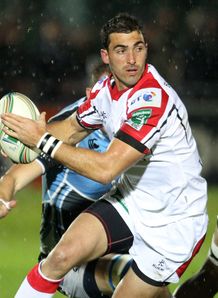 Ulster boss Mark Anscombe has confirmed that Ruan Pienaar will remain at scrum-half as opposed to pulling the strings at fly-half.
Pienaar's flexibility at half-back has seen him used in both the nine and ten shirts throughout his career, but Anscombe is keen to let youngster Paddy Jackson develop in the fly-half role.
"Arguably, he is, if not the best, one of the best nines in the world," said Anscombe to BBC Sport.
"He is such a good footballer he could play a number of positions. And he has done that at international level.
"But the fact is you have to ask yourself, when you have got someone who is world class in one position, why would you play him somewhere else?
"Yes he could do it, but the fact is that his kicking game from the base of the scrum and the ruck is just an outstanding, he is second to no man."
"We have Paddy Jackson, who we have a lot of confidence and faith in. We think he is a good young man and he is only getting better as a footballer. Yeah he's not perfect but he is 21 years of age."