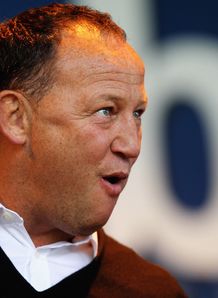 Steve Diamond offered a response to claims he appeared disheartened after Sale's defeat to Saracens, stating he is up for the fight.
The gap between safety grew to five points last weekend for Sale after London Irish's surprise victory over Gloucester at Kingsholm, but Diamond has declared that he is far from a beaten man.
"I've heard it said that people think my mojo has gone," Diamond told the Manchester Evening News.
"Some people have said that because of my demeanour on television at the weekend, I looked like a beaten man.
"Well that couldn't be more wrong. I am up for the fight and my mojo has far from gone and all the staff and players here will tell you that as well.
"I think we've got five league games at home to come which we can win. Harlequins will be coming up here to Manchester during the Six Nations, we've got Wasps in the last game and Gloucester, Bath and Exeter which, if we are on form and apply ourselves, are all winnable games.
"I was down at Saracens on Sunday - but only because of the manner of the defeat. We were in the game for 64 minutes and then something which we'd trained against all week they (Saracens) opened us up with. That's why you get frustrated.
"But we can only worry about things we can control. London Irish, like us, have had a torrid year yet they are capable of beating any side on their day if they get it right, and we are too.
"Yes, we have got a massive job on our hands but what we need is support.
"I'm in charge and I'm there to be shot at and criticised and that's fine as the fans are more than entitled to voice their criticism.
"But what I also would urge right now is for people to keep supporting us.
"The team respond really well to the crowd's backing as they showed when we beat Worcester. We've had an awful year, and I'm the first to admit that but there are nine games to go in the league, five of which are at home and its going to go down to the wire.
"Where we are in the league and how we put it right is always there in my mind. It's there when I go to sleep and it's there when I wake up - I think about it all the time.
"But there's no secret. It's about training well, sticking to the game plan, applying yourself, cutting the errors out and we'll get the wins."
Diamond also confirmed that former Wales number eight Andy Powell would be out for a month with a broken hand.