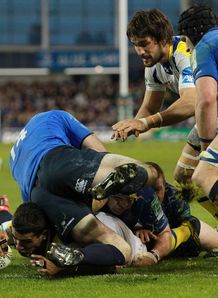 Related links
Also see
Clermont coach Vern Cotter underlined his side's desire to win the Heineken Cup after their 28-21 victory over Leinster in Dublin.
The visitors put in a brilliantly physical and clinical performance, with Morgan Parra named Man of the Match after an racking up 23 points.
Having now beaten last season's champions in back-to-back encounters, Cotter believes that his team are now ready to have a crack at the title.
"We intend to go the whole way," said Cotter.
It's a game of rugby - it doesn't always go the way we want, but our intention is to go as far as we can.
"Last year we lost a semi-final in Bordeaux. Goodness knows what would have happened if Wesley (Fofana) had scored that try (in the last minute of the semi-final against Leinster).
"We didn't get a crack at the final. We would like to get there and see if we can get over the line and take the title. That is our firm intention."
"All the criteria that is important for a top performance - technical, tactical, physical, psychological - I thought we were present in all those sectors."
"Without getting too carried away, we are reasonably happy.
"We will now try to negotiate the next three games in the Top 14 before getting ourselves up for a final effort to qualify (for the Heineken Cup quarter-finals)."