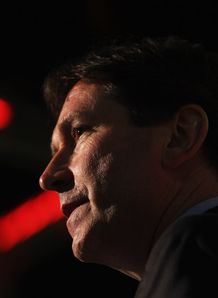 Related links
Also see
Premiership Rugby chief executive Mark McCafferty was left upset over a European Rugby Cup meeting that took place without their presence.
Union talks between France, Scotland, Ireland, Wales and Italy were held on Wednesday but ended fruitless after several ideas were tabled.
And that has left McCafferty unhappy as he hit back by saying that the alliance between England and France is ultimately stronger than ever.
"It was a flawed attempt to divide and rule and it failed," McCafferty told the Guardian.
"In the short term, the meeting was not helpful in finding a solution that meets most of the needs of all those involved in the European tournaments.
"It may be that a period of reflection is needed and that, with the autumn internationals coming up, it may be a good idea to postpone the next meeting of the shareholders, which is planned for next Tuesday in Dublin. It is something I will be discussing with our clubs on Friday and I know from the calls I have received that they are very angry at what happened this week."
Top 14 and Aviva Premiership outfits want to ensure that RaboDirect PRO12 teams qualify for a 20-team elite tournament and for the money to be divided equally between the leagues. And with the French rejecting two counter proposals tabled by the PRO12, it seems Anglo-French ties remain strong. The Rugby Football Union were at the meeting, represented by chief executive Ian Ritchie and professional rugby director Rob Andrew.
"If the ERC thought our plan was going to change then they understand now that it is not. The picture is clearer. The way the meeting was done was not helpful but maybe there has been some reverse benefit," one club source told the Press Association.