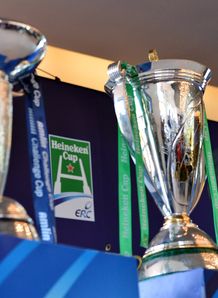 Related links
Also see
Negotiations over a new deal for the European Cup competitions from the 2014/15 season will continue in Dublin later this month after a "comprehensive" meeting in Rome on Monday.
The meeting broke up after six hours of talks on the future structure of the European competitions with no resolution to the impasse.
"ERC Accord discussions to continue in Dublin on 30 October after six hour comprehensive meeting in Rome," tweeted competition organisers European Rugby Cup (ERC).
The English and French teams believe the European Cup's current format is weighted in favour of the PRO12 teams, with Irish provinces Leinster and Munster having won five of the last seven editions between them.
They insist no more than six PRO12 teams should qualify, although that would put at risk the involvement of Scottish and Italian sides.
At present, the two Scottish and two Italian teams are guaranteed places in the Heineken Cup every year, and heading into Monday's meeting they were not willing to compromise on that position.
The English and French clubs want PRO12 clubs to qualify on the same grounds as those in the Premiership and Top 14.
Now Rugby Football Union chief executive Ian Ritchie has thrown Twickenham's weight behind the Premiership clubs' demands for reform.
"We want to try and help bring that agreement together, recognising that it is very important to have a good highly competitive, meritocratic competition that exists across Europe," said Ritchie.
"I think we certainly support a view - most people do - that some change in the competition would be a good idea.
"How far it goes, what the nature of it is, is the discussion that has to be had.
"It is in the interest of everybody to have a strong and vibrant European club competition. Those are the objectives we share with PRL and most of the other stakeholders as well.
"It needs to be dealt with as a matter of urgency and priority but there is time to resolve it.
"I always start from a presumption there is an agreement that should be reached. Inevitably it will involve some compromise on all sides."
The meetings have come in the wake of an announcement last month by Premiership Rugby of a TV deal with BT Vision worth £152 million ($245 million) over four years from next season.
Continental rugby chiefs say a clause granting BT exclusive live broadcast rights to matches played by Premiership clubs in any future European competitions from 2014-15 for three years is invalid.
In a statement issued following a board meeting at its Dublin headquarters last month, ERC said the "purported deal" was in breach both of International Rugby Board (IRB) regulations and an ERC board mandate.
The statement said it was "unanimously agreed" at an ERC board meeting on June 6 that ERC would conclude a new four-year agreement with satellite broadcaster Sky Sports for the UK and Ireland exclusive live broadcast rights to the European Cup and the European Challenge Cup until 2018.
However, following that ERC statement BT's executive director Mark Watson said that he was willing to create a new European competition when the present deal with ERC ends at the climax of the 2013-14 season.
Ritchie, however, confirmed that Premiership Rugby were in breach of their agreement with the RFU - and of IRB regulations - by not seeking clearance to strike the BT deal.
But, hinting at the RFU's recent apology to former chairman Martyn Thomas, Ritchie insisted everything should be done to keep the matter out of the courts.
"We need to park the legalities from my point of view," Ritchie said.
"The RFU should have an ability to approve whatever deal is in place. We have made that clear to PRL and we have not given that approval nor have we been asked for it.
"The whole issue of what happens with various tv deals should be secondary to having a group of people sitting around a table saying 'how are we going to sort this out?'
"My view of life is that you have to sit down with partners. We have to try and get a co-ordinated agreement. Is that possible, feasible?
"I haven't got a clue. We have to try. If we can't we'll see but it is early days yet.
"You can obviate the situation about legal action if you reach agreement.
"Most people would say any form of legal action is a last recourse. If it gets to the stage where it ends up with lawyers so be it."