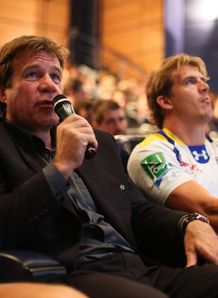 Related links
Also see
Clermont general manager Jean-Marc Lhermet has added his voice to the growing number of calls for a change to the Heineken Cup qualification rules.
At a news conference for the launch of the 2012-2013 European Cup competitions in France on Monday, French clubs re-affirmed that they want a shorter schedule and for the Heineken Cup to be cut to from 24 to 20 clubs.
English and French teams need to finish in the top six of their domestic leagues to qualify for the Heineken Cup and authorities from both countries have been calling for the quota from the PRO12 to be reduced to six teams instead of ten.
"Is it really appropriate always to have two Italian clubs in the group stage? Is it normal that some teams automatically qualify while others have to fight for their place? I am not sure," said Lhermet.
Former France manager and current Toulon boss Bernard Laporte called for the European Cups to be played in two months to allow clubs to focus on their domestic fixtures afterwards.
"A single playing window would be more logical to me," he said.
"Then we could move on to our domestic championships."
At the same conference, European Rugby Cup (ERC) chairman Jean-Pierre Lux lashed out the English Premiership, calling the £152 million deal signed with BT to broadcast European matches involving leading English clubs from 2014 "illegal."
The deal contradicts the ERC's deal with the current rights holder BSkyB but BT have suggested they could create a new European competition.
"This is shocking because it is illegal," said Lux told.
"The English (delegates at the ERC) did not say anything about how the money from the deal will be shared between the domestic and European competitions and how it will be shared with the other countries' (clubs).
"They opened talks directly with some South African and French clubs. This has hampered the negotiations. It is hard to talk with them. We may have to move on without the English, though I do not want it."