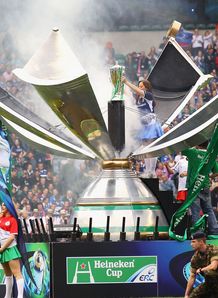 Related links
Also see
The Heineken Cup appears to be nearing its end after BT Vision boss Marc Watson revealed that a new competition is in the pipeline.
Following on from the groundbreaking £152m deal with Premiership Rugby that includes live broadcast rights for European games played by English clubs for three years from 2014, further doubt has been cast over a tournament that has already been rocked by news that English and French sides are threatening to walk away.
The clubs are unhappy with RaboDirect PRO12 outfits' recent glory and believe it's partly a result of a qualification system which allows them to rest their players during their league term. And chief executive Watson has now added to the speculation that the Cup is nearing a crossroads.
"We are looking to set up, or at least help set up, a dazzling new European tournament with a fantastic new format, with, we hope, all the best clubs," he told sportspromedia.com.
"And we've secured, from the English Premiership, the rights to that for the UK.
"That tournament will be the successor to the Heineken Cup, which is a very successful tournament.
"The Heineken Cup, under its current contract, has another season to run, and that will be the end of it, and we are looking to set up a brand new tournament from then.
"We saw in rugby an opportunity to own a sport exclusively, certainly at club level, and the rights that we've bought give us an opportunity to do that.
"We are hosting the Rugby World Cup in 2015 in the UK. It's a great opportunity in the two years running up to that, we think, to grow the sport.
"It's a sport that has got a long way to go. We were attracted by the idea of growing with it, and helping it to grow in the UK."