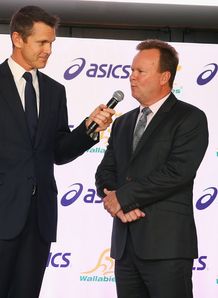 Related links
Also see
ARU chief executive Bill Pulver believes the Wallabies are capable of winning 'every single game' between now and the Rugby World Cup.
With the Australian sides going well in Super Rugby and the Wallabies set to face many of the world's top sides this year - including a three-Test series against France next month - Pulver feels the squad will be well tested.
Excited by the prospect of watching a young Australian squad continue progressing ahead of the Rugby World Cup in England next year, Pulver talked up taking on the All Blacks and Springboks in this year's Rugby Championship as benchmark fixtures.
"There's a lot of cause for optimism," said Pulver at the unveiling of the new Australian jersey for this year.
"We're probably higher on the ladder in Super Rugby than we've ever been and you can just tell there's a terrific young playing group coming through.
"We'll play every major team. (With) the good playing group coming through, I think there's a lot to look forward to.
"You can't avoid having an eye on the World Cup. It comes around once every four years. It really defines the leading nation in rugby.
"Having said that, it really is one step at a time. I'd like to think the team's focus is on the first Test - June 7 against the French.
"Ewen will announce the squad in the next couple of weeks and you'll see it is really with a view towards the World Cup, but quite capable of winning every single game between now and then.
"But a couple of games against New Zealand and South Africa, the number one and number two in the world, are going to be a true test."