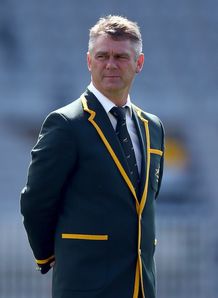 Related links
Teams
South Africa coach Heyneke Meyer has backed his side to fulfil the mammoth task of beating New Zealand to Rugby Championship glory.
The All Blacks have one hand on the title on already, after winning all five of their games in the tournament, and sit five points clear at the top of the table.
To win, the Springboks will have to score four tries or more at Ellis Park on Saturday, and ensure the Kiwis do not finish within seven points of them to pick up a losing bonus point. Meyer is adamant his side will go for the jugular.
"I really want the team to go and score four tries," said Meyer.
"By saying that it is a huge, huge challenge because the more rugby you play, the All Blacks play off your mistakes.
"I believe you can't be in two minds. You are either going to go for the four tries or play it safe and try and win the game.
"No one will probably give us a chance but it is just great to go positive into this game and try to do what's impossible."
The history books show the Boks have an impressive record against their counterparts at Ellis Park, emerging victorious on eight from eleven games, including the famous 1995 World Cup final.
The last two visits of New Zealand to the venue also yielded eleven tries for the hosts.