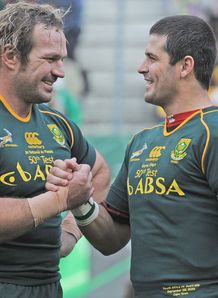 South Africa have narrowed the gap at the top of the IRB World Rankings after their victory over Australia at the weekend.
Their 28-8 win over Wallabies in the penultimate round of the Rugby Championship saw the Springboks catch up to the world champion All Blacks who they now trail by 3.23 rating points - an improvement of just over three tenths.
South Africa face New Zealand in Johannesburg this weekend and have to beat the visitors with a bonus point while at the same time not allow them to secure one of their own.
Meanwhile, Australia's fourth defeat of the Rugby Championship means they now sit less than two points above fifth ranked France ahead of their wooden spoon showdown with Argentina in Rosario on Saturday.
The only match that forced a change to the IRB World Rankings at the weekend was in the European Nations Cup Division 2D encounter between Finland and Greece in Turku.
Finland recorded a 35-20 win and their reward was to progress a single place to 99th with Greece replacing them as the last placed side. Mauritius also climb one place to 98th as a result of Greece's fall and now sit just under five tenths above Finland
IRB World Rankings:
1(1) New Zealand 92.07
2(2) South Africa 88.84
3(3) England 85.76
4(4) Australia 83.34
5(5) France 81.59
6(6) Wales 81.36
7(7) Samoa 80.42
8(8) Ireland 79.58
9(9) Scotland 76.95
10(10) Argentina 76.41
11(11) Tonga 74.77
12(12) Italy 74.17
13(13) Fiji 73.56
14(14) Canada 72.68
15(15) Japan 71.98
16(16) Georgia 67.66
17(17) Romania 66.18
18(18) USA 64.91
19(19) Russia 61.99
20(20) Spain 60.44