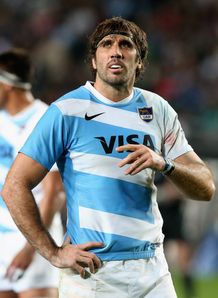 Related links
Teams
Argentina captain Juan Fernandez Lobbe has warned his side to ignore Australia's current form ahead of Saturday's clash with the Wallabies in Rosario.
The Pumas are desperate to record their first Rugby Championship win having only secured a draw against the Springboks in the 11 matches since joining the elite southern hemisphere tournament last year.
"The more there is talk of Australia coming here in poor form, the better they'll play, they are the third best team in the world," Fernandez Lobbe told reporters.
"It's going to be a tremendous match and in Perth they were not in good form but they beat us."
Although confidence in the Pumas camp should be high following a solid first half performance against the All Blacks, where they only trailed 9-11 at half-time in La Plata on Saturday, Fernandez Lobbe said that the only way they they would break their duck is create more points scoring opportunities.
"We played our best 40 minutes this year and we couldn't put that dominance on the scoreboard and in the second half we were put under incredible pressure, they're not the best team (in the world) for nothing," added Fernandez Lobbe.
"Our defence continues to be very good, our discipline has improved immensely, in all our matches we gave away less penalties than our opponents.
"But we weren't able to create try-scoring chances and that's something we have to improve."
The Toulon back rower said his team would not be distracted by pundits who are predicting their maiden victory this weekend and instead only focus on areas where they need to improve.
Having come close in Perth where the Wallabies eventually sneaked in to record a 14-13 win a fortnight ago, the Pumas would have targeted this weekend's wooden spoon showdown as one they can win.
Fernandez Lobbe would, however, not admit that and instead highlighted that complacency is one of the reasons why they were on the receiving end of a 73-13 hiding in South Africa last month.
"Let's hope Australia have a bad match ... (but) we're not going to listen to (the victory talk) because that's how things like Soweto occur," he said.
"It's very frustrating for us not to get a first victory but we have to keep growing along these lines and it will come."