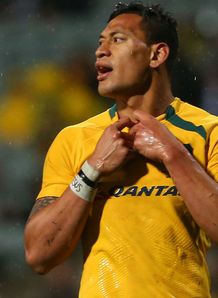 Related links
Teams
Australia and Waratahs back Israel Folau is desperate for more possession to show what he can do for club and country.
Folau recently switched to full-back for the Wallabies have made his Test debut on the wing against the British and Irish Lions in June.
The Wallabies' only try scorer in the win over Argentina last Saturday, Folau is looking to improve his own positioning in order to receive more ball to work with.
"I'd like to get my hands on the ball a little bit more," Folau told Fairfax NZ News.
"That's something I need to work on - not just for myself but with the players around me as well.
"I've got to find ways to try and get the ball in my hands. It's not just for me, but for us as a team. We've got to work together as a team."
Folau will reportedly be used by the Waratahs at 13 next season, with the arrival of Kurtley Beale at full-back shifting Folau further into the action in order to accommodate both stars.
"I'm very excited and open-minded about obviously trying my hand in playing outside centre," added Folau.
"I think with the squad that we have next year it's going to be exciting. We've got a lot of depth in the backline.
"Certainly over the pre-season, I'm looking forward to having a crack and see how it goes."
Waratahs boss Michael Chieka praised Folau's ability to dominate a match single-handedly, stating the Wallabies will "start clicking" with more time together under Ewen McKenzie.
"He looks like he's the most dominant player out there at this stage," said Chieka.
"You can't run over to him and say 'here you go mate, here's the ball' and run away.
"I don't believe that you need to force anything, it just happens. And eventually it'll start clicking, where he'll be getting the ball more and they'll be clicking more as an outfit.
"I just don't think you can orchestrate that. You've just got to play it naturally and see how it pans out."