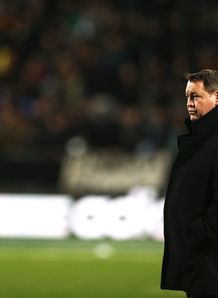 Related links
Teams
New Zealand head coach Steve Hansen has noted the changes to South Africa's tactics ahead of their clash next weekend.
The Springboks were in impressive form as they thumped a poor Australia side 38-12 in Brisbane on Saturday.
Playing with greater width than seen in recent seasons, Hansen noted that South Africa had "sped up their game" and would look to bring the threatening Bryan Habana and Willie Le Roux more into the attack.
"They've kept their physicality but they've sped up their game. They're using their backs a lot more and this will be the first time they've had so many bonus points in this competition," said Hansen.
"That's a reflection on how they're using the ball so they're going to be really, really tough."
Hansen also reflected on his side's physical edge against Argentina in Hamilton, where horrendous conditions limited the tactics of both teams as the All Blacks triumphed 28-13.
"We exerted out own physicality on the game pretty well, the forwards played very good," added Hansen.
"It wasn't a night for the backs so we won't reflect too much on those kind of areas. We'll look at things we can tidy up in our structures around the park.
"There's enough positives there to look forward to next week."