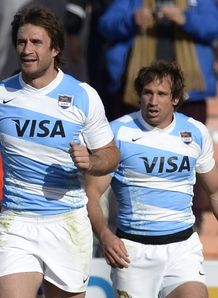 Related links
Teams
Also see
Argentina players Marcelo Bosch and Felipe Contepomi have credited a change in tactics for their improved showing against South Africa.
The Pumas were hammered 73-13 a week before in a concerning loss that left many questioning whether their place in the competition would continue to be justifiable.
However, Argentina rallied to come agonisingly close to a first ever win in The Rugby Championship, leading until Morné Steyn's penalty in the 71st minute before ultimately losing 22-17.
Speaking about the loss in Soccer City, try-scoring centre Marcelo Bosch described it as an anomaly and that his side had shown their true colours in Mendoza.
"This is a team with a lot of pride, our captain tells us over and over that this group (of players) cannot be broken. Sadly, last Saturday we were broken and that hadn't happened in recent years and it was a terrible coming down to earth," said Bosch.
"(But) we all contributed from Monday to change our image, luckily it worked out and we're proud of what we gave today."
Argentina captain Felipe Contepomi, who was forced to leave the field with an injury early in the second half, backed up Bosch's statement by stating that the performance was more important than the result.
"We don't talk about winning or losing but of the way we can play and end a match with our heads held high," said Contepomi.
"Today I think we saw a solid team and the way we lost gives us confidence to be able to work and grow as a team."