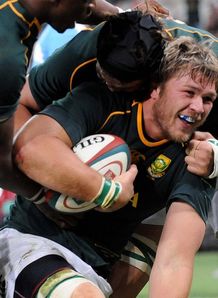 Springbok number eight Duane Vermeulen says the team can still improve as tougher challenges lie ahead in the Rugby Championship.
The Boks are understandably in a confident mood after producing a dominant performance on Saturday when they dismantled Argentina 73-13 at FNB Stadium.
Vermeulen returned to action for the first time since injuring his knee in a Super Rugby game in May, but it didn't appear as if he had spent any time out of action, as his impressive performance helped South Africa to physically bully their South American opponents.
"I really enjoyed it," said Vermeulen.
"It was probably a bit tough for them up here (Johannesburg) and I think the height above sea level caught them out a bit. Maybe also the fact that they had to travel."
"But next week (Saturday) is different. A different crowd, a different field," he said, looking forward to the return fixture against the Pumas in Mendoza.
The abrasive number eight added that the tournament would only get more demanding for his team and that there is room for improvement.
"We can still improve a lot, even though we set a standard (on Saturday). Big and strong opponents await us, and to play away from home will be tougher," said Vermeulen.