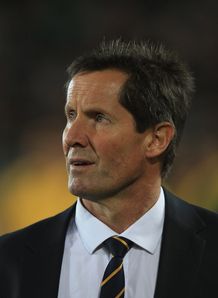 Related links
Teams
Also see
Australian newspapers said Monday coach Robbie Deans's future was on the line after the Wallabies' shambolic loss to the Springboks in South Africa at the weekend.
The Springboks ended a run of five losses against the Wallabies to inflict a crushing 31-8 win in Pretoria on Saturday and push the Australians down to third place in the four-nation Rugby Championship.
New Zealander Deans was already under scrutiny following comprehensive defeats to New Zealand in the southern hemisphere tournament and hollow home wins over South Africa and Argentina.
The Australian media said Deans was fighting for his coaching future in next weekend's final Test against the Pumas in Rosario.
"The coaching future of Robbie Deans will go on the line in Argentina when a second-string Wallabies side takes on the Pumas," reported the Daily Telegraph.
"The unnerving knowledge that the Broken XV in the casualty ward is a far superior line-up to the Wallabies flying into a wild Argentinian ambush is not how Robbie Deans planned to fight for his coaching future.
"Not after five seasons of triumphs and crashlandings in the big-ticket arenas of Sydney, Brisbane, Durban, Bloemfontein, Twickenham, Murrayfield and, of course, Auckland with that cursed Eden Park patch."
Former Wallaby captain Andrew Slack said the "messiest" fortnight in Australian rugby's professional history had pushed Deans's tenure as national coach close to breaking point.
"Nowadays is it perform or perish," Slack told the Australian Associated Press.
"People will be looking for a scapegoat and rightly or wrongly the responsibility for the performances rests with the coach.
"There will be a lot of pressure on Robbie heading into the (Argentina) game.
"And if it is a game they lose, that pressure will only intensify but I think even if they win that pressure will still be there."
The Sydney Morning Herald said "disruption and decay" were everywhere.
"Australian Rugby has endured the most dreadful of weeks. And next week could be even worse, with the Wallabies heading deeper into the horror tour from hell," it said.
"Disruption and decay are everywhere. (Flyhalf) Quade Cooper dumps on them, the Springboks smash them and now they head to Argentina with the fear that without enough fit bodies they could be decimated by the Pumas."
The Australian newspaper said Australian rugby was deteriorating fast and called on new ARU chairman Michael Hawker to act.
"If he doesn't hit the button for the crash cart now, the game will soon slip beyond the point of saving," the paper said.
"The defibrillator paddles have to be applied and the first jolt needs to shake loose Robbie Deans from the coaching position.
"There is not the slightest doubt that Deans has given his all over the past five years and tried to make the Wallabies work.
"But clearly they're not working and that was obvious at Pretoria long before injuries reduced the team to a shambles midway through the second half."