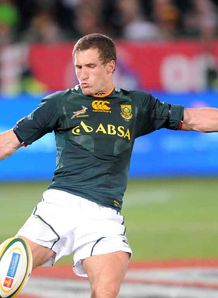 Related links
Teams
The Wallabies and All Blacks visit Pretoria and Johannesburg in a fortnight of rugby that could make or break a few careers.
Planet Rugby's Ross Hastie returned to the Highveld - where Wallabies are an endangered species - to give you a view from the inside.
Day 6 - The truth lies between the lines
A fully fit Wallaby is a rare thing to find these days. Robbie Deans' detractors - who seem to be growing in number by the day - would do well to remind themselves of the current Wallaby injury list before calling for his head.
And it isn't getting any shorter.
Adam Ashley-Cooper is heading home with a serious headache while Berrick Barnes spent the night in hospital after suffering a punctured lung at Loftus. He was initially cleared of a chest injury but was not a happy camper at the hotel during the night and was taken back to hospital.
Barnes' stay on the Highveld has been extended for a few days, under the watchful eye of a team doctor while the rest of the Wallabies jet off to Argentina. Radike Samo (shoulder), Tatafu Polota-Nau (neck) and Digby Ioane (knee) are on that flight, but are doubtful starters against the Pumas.
Understandably, Deans was rather grumpy at the post-match press conference and repeated on numerous occasions that his team had little chance of competing against the charged-up Boks having spent much of the last hour of the game shuffling their team to cope with absence of the crocked.
"They scored once when Radike was down and we weren't allowed to put a replacement on in time. When Nick Phipps saved that try near the end, we had only 12 blokes upright at the time," said Deans.
He wasn't chuffed with the fourth match official either, saying that he had given the green light for a late hooker replacement before referee Alain Rolland (correctly) refused to allow Saia Fainga'a onto the field because the Wallabies had used up their seven substitutions.
Deans called the situation 'bizarre,' but he knows the rules. The old 'rotating prop' tactic has long been abused by a lot of teams (including the Springboks) but with Wallabies going down like flies, they were pushing their luck to expect to get away with it.
The mood amongst the South Africans was obviously very different and many fans woke up on Sunday morning convinced that a new era of excitement had dawned and that Johan Goosen was indeed the saviour they were begging for.
Jean de Villiers was at pains to stress that there had been no change in their game plan and that the overtures about Goosen's performance should be taken with a pinch of salt.
Yes, Goosen shouldn't be hailed as messiah, and no, the Boks hadn't radically altered their approach, but to pretend that the hosts had changed nothing would be misrepresentation of the truth. As a certain former Bok coach (not he of the moustache) pointed out, the Boks made about as many passes in 80 minutes in Pretoria than in all their previous games in the tournament so far combined.
JDV is obviously trying to avoid creating a public expectation of a Bok team that is suddenly going to play like the All Blacks. But no one ever asked for a revolution. That the Boks are evolving into a more complete team is, however, a relief for many.
Loftus isn't my favourite ground when it comes to covering a game because (even though the food is always great) the press box is almost entirely insulted from noise outside. Unless the whole crowd erupts, you're completely cut off from the famous atmosphere. What that does mean, however, is that you can hear all the quips dished up by the journos present, who are seldom short of a dry line.
Here are some of the highlights:
"Man, is this supposed to be entertainment? I can't believe this guy earns more than I do" - Singer Heinz Winckler's pre-game performance wasn't to everyone's taste.
"Who is this mermaid?" - Anthem singer Charlize Berg was much more popular.
"You know you're at Loftus when most of the crowd only sing half the anthem."
"Damn, what a hit. I think he left his kidney on the halfway line."
And the day's winner:
"Ladies and gentlemen... the first line-break by a South African fly-half in four years."
Day 5 - Springboks rule at Loftus
Day 4 - When your friend is your enemy and your enemies are friendly
Day 3 - Quade Cooper: The Kevin Pietersen of rugby
Day 2 - Reconciliation at the Casino?