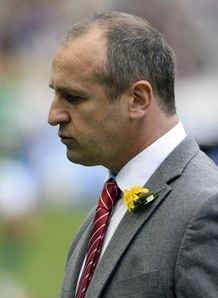 France coach Philippe Saint-André hopes the 'god of rugby' will be on his team's side next season after losing to Ireland in Paris.
Ireland sealed the Six Nations title in Brian O'Driscoll's final Test appearance with a 22-20 victory.
Jean-Marc Doussain had a chance to win the game for France with a late penalty but missed, with Saint-André regretting a missed chance to win a tight game and paying tribute to O'Driscoll.
"High-level rugby is very cruel," said Saint-André.
"No one can say anymore that we don't have an enormous ambition to play the ball.
"In the end it's Brian O'Driscoll that decides the tournament and leaves his last match with the trophy.
"Ireland have improved a lot, because they won the tournament, they play a quick tempo game.
"They've shown a lot of spirit and character throughout the Six Nations. Today they won a very, very tight game.
"I'm looking forward to playing Ireland next year in the Six Nations. Congratulations to Ireland and O'Driscoll.
"Next year O'Driscoll will not be here, so maybe the god of rugby will be on our side."
France have come in for heavy criticism from the national press over the team's perceived lack of tactics and quality, but Saint-André fiercely defended his young squad in the aftermath.
"Yes absolutely we have improved, it's a young group, we know there's still room for improvement on small details, and we're really working on it," added Saint-André.
"We are a bit frustrated, we would rather have won but we can build on this and look towards to our tour to Australia."