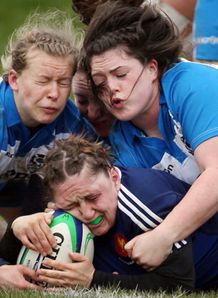 Scotland Women hand debuts to five players for their final Six Nations clash against Wales on Sunday at Talbot Athletic Ground.
"We hope these girls can bring a different kind of intensity from the offset," said boss Jules Maxton.
"These players have made a strong enough impact off the bench in recent games, and thoroughly deserve a chance to show what they can do in the starting team.
"We're really targeting this game as a chance to put some points on the board, and on our table tally, to end our Six Nations with a solid performance and a win."
In the back division, Megan Gaffney returns to the left wing ahead of Katy Green, as Lisa Martin takes her spot in the ten jersey in place of Tanya Griffith, who will not feature in this week's squad.
Gillian Inglis and Laura Steven switch positions for the trip to Wales, the former moving to inside centre, the latter to the outside.
Making their first starts for Scotland, prop Karen Dunbar and hooker Lana Skeldon will take the place of Heather Lockhart and Lindsey Smith respectively.
The only other change in the pack is in the back-row as Rachael Cook, also making her first appearance in the starting XV, replaces her Murrayfield Wanderers team-mate Ruth Slaven.
Utility back, Lyndsey O'Donnell, makes her first appearance in the squad this campaign as she claims a spot on the bench.
Scotland Women: 15 Stephanie Johnston, 14 Annabel Sergeant, 13 Laura Steven, 12 Gillian Inglis, 11 Megan Gaffney, 10 Lisa Martin, 9 Sarah Law, 8 Jade Konkel, 7 Tess Forsberg, 6 Rachael Cook, 5 Emma Wassell, 4 Deborah McCormack, 3 Tracy Balmer, 2 Lana Skeldon, 1 Karen Dunbar
Replacements: 16 Lindsey Smith, 17 Heather Lockhart, 18 Lisa Robertson, 19 Ruth Slaven, 20 Lyndsay O'Donnell, 21 Louise Dalgliesh, 22 Katy Green, 23 Sarah Smith