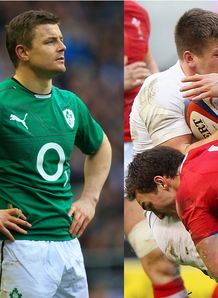 As the Six Nations resumes after its mid-tournament break, we have pleasure in welcoming back one of our favourite Experts, Welsh flanker and Test centurion Martyn Williams, to cast a critical eye over round four of rugby's oldest international tournament.
This season has been unusual thus far; England, France, Ireland and Wales all seem to be jousting for the claim of the northern hemisphere's premier team, whilst Italian and Scottish fortunes seem to vacillate between hope and desperation.
Without doubt, this week's prime fixture is the English revenge mission against their most bitter of foes, Wales and
Williams believes that the teams will be very evenly matched this season:
"Last year was the Perfect Storm!" he smiled.
"So many things came together for Wales that day; a referee in Steve Walsh that suited our style of play and who rewards momentum, an incredible partisan support that was easily worth ten or twelve points on the day and an early score that broke the heart and minds of the English youngsters.
"That was a one off, and this weekend will be totally different," explained the former Cardiff flank.
"Both teams have had their moments and also their disappointments this season.
"England should have closed the French game off in Paris and will rue that opportunity after all their hard work. Unusually, against Ireland, they had less than parity in possession and territory, yet their aggression on the gainline and in defence won them the game.
"Central to their improvement has been their rush defence, superbly orchestrated by Andy Farrell, and the general upward curve of learning from some of their youngsters."
Williams believes that the chastening experience in Cardiff last year may indeed contribute to the blooming of some of England's young roses:
"Adam Jones, in rugby talk, gave Joe Marler a stuffing last year. It was a hard lesson in international scrummaging from a hairy master of his craft. But you only have to look at how Marler has reacted to know he's got what it takes. I checked the player weights earlier this week and Joe is now six kilos heavier than the fixture last year. He's worked hard and he's learned which is exactly the response you expect from a Test forward," noted the former Welsh skipper.
"The other Joe, (Launchberry) has become the centre of everything good about England's work at the breakdown. He's a real force there and his battle with Alun-Wyn Jones will be one for the connoisseurs of second row skill.
"England have moved on a long way since Cardiff, make no bones about it. Only six or seven of the side remain and the team looks far more balanced and hungry in its ambition.
"However, Wales go into the game pretty much 'fully loaded' in terms of availability. England are short of a few important men.
"If Alex Corbisiero and Dan Cole were fit, I'd have England to shade to forward exchanges, but that's not the case. And missing too will be England's key gainline carrier, the hugely impressive Billy Vunipola who looks an absolutely world-class find to me.
"On that basis, and with Alun-Wyn and Gethin Jenkins returning to their best form, I think the packs will literally cancel each other out. There will be nothing to choose between them and I don't think forward domination will win the fixture, something that England possibly rely on more than Wales.
"Geth is absolutely key to Wales and I'm sure they'll start with him, despite Paul James being marginally better in the tight. I've heard him written off so many times as a scrummager but what he brings to a side in other areas such as tackle, jackal and tactically, is immense. His ability to coach and make decisions on the field of play is without par in my experience. The guy has a rugby brain to rival those of the likes of Jonny Wilkinson and Dan Carter. Don't denude just what Gethin brings to any side he plays in; his rugby wisdom will be needed on Sunday."
With Lions Man of the Series Leigh Halfpenny and current player of the tournament Harlequins Mike Brown cancelling each other out at the back of the defence, Williams looks to the midfield battle as the key to victory:
"I played against Mike Brown about five seasons ago in the Heineken Cup and he made a big impression on me. He was one of those players that always seems to break the first tackle and someone you notice troubling you throughout the game, which is always a good sign," explained Williams.
"He's been outstanding this year and I'm delighted for him as I don't feel England used him well previously.
"However, in the Welsh 15 jersey, no-one has to big up Leigh Halfpenny these days; his record speaks for itself and he's absolutely world class, so if you accept my points about the forwards and full backs, then you have to ask yourself which back line can win more 'key moments' of the game and where is the x-factor spark going to come from to ignite a victory?
"This is a game that will turn on one or two plays, mark my words. One flash of brilliance or equally, a howler in defence, so yes, you can accuse me of bias, but I have to say that the telling factor will be the Welsh three-quarter line.
"They are absolute beasts of men!" laughed Williams.
"Key playmaker Jonathan Davies looks set to continue his recovery and, looking at the firepower outside him, I can't see England's youngsters coping with the experience and interplay of a settled Welsh midfield. Those guys are huge, know each other's games inside out and are seriously quick.
"As good as England have been defensively, the amount of space and numerical mismatches that the likes of Jamie Roberts and George North can create will trouble even the best-organised defences. Wales just seem to have a little more sparkle in this area and I reckon they'll take the game by seven or eight, all hinged on a couple of micro-moments."
Overshadowed by the pomp and ceremony at Twickenham, an underperforming Scotland host an infuriatingly erratic France.
"Scotland have struggled this year, and have made some 'interesting' decisions, but that comes with Scott Johnson I guess! He's been a lot more pragmatic in his forward selections this week and the inclusion of Kelly Brown and the return of Dave Denton and Euan Murray will strengthen the Scots significantly," said Williams.
"But the simple fact remains; Scotland, like Italy, have a few very good players with some average ones around them.
"This is down to a paucity of depth; a lack of numbers playing the game. Rarely do you see a new player breaking through in Scottish colours. They have to make do with re-cycling the same personnel and that makes things tough for them.
"France will be smarting however. Wales took them easily in the end last week. Once we got that early score I knew recent history suggests that once ahead at home, the momentum stays with us.
"But looking at the French talent you feel that they should be doing more with their player base. Every row of their pack is immense in both talent and physical gift. The skills of some of their backs like Yoann Huget and Wesley Fofana are sublime, yet somewhere there's a disconnect. It may be the hinge at nine is not working and for my money, Morgan Parra was missed greatly earlier this year. But the most inexplicable thing is why they persist with the one dimensionality of Mathieu Bastareaud in the centre when his obvious replacement, the impressive and in-form Gael Fickou has so much more to offer the gifted side around him.
"It just doesn't make sense to me and I am at a loss to explain why France are so frustratingly inconsistent!" exclaimed the Welsh Flanker.
"However, put that to one side and there is not a lot the Scotland can offer to contain the all-round power of France. Due to the underfoot conditions, I don't think it will be champagne rugby, but France go in as clear favourites and only a Scottish miracle could prevent a French win."
In Dublin, it seems that Italy are set to be mere spectators to one of the most profound events in the history of Irish rugby; the final home appearance of one of the greats of the sport, the warrior Brian O'Driscoll at his beloved Landsdowne Road.
Italy have flattered to deceive this year, and Williams believes they, like Scotland, are suffering from a lack of competition and depth in their game:
"They are still relative new boys and although they've shown a lot more ambition this year, they still are, like Scotland, a side that relies on their stars putting in massive games and the lesser lights punching well above their weight if they're going to win. Look back over history and they manage this about once a season," said Williams.
"They are a bruising side to play against, but Ireland will be on a mission after losing a game they had the possession to win in Twickenham. They will also be anxious to put up a big score as the Championship looks likely to come down to points difference.
"And then, there's Brian!"
Martyn Williams toured three times with man simply known to all as 'Drico' and is not short of praise for O'Driscoll's brilliant career.
"If you asked me who are the true greats of the professional era, I'd have to say that Drico would be alongside Richie McCaw, Dan Carter and Richard Hill in my hall of fame. He is that good. He is unquestionably the best player I've had the privilege of playing with and is absolutely one of a kind," explained an admiring Williams.
"If you took any position from 6 backwards to 15, Brian could play there at Test level and I am deadly serious. His intensity is amazing, he's as hard as nails and, in his youth, had pace to burn.
"He rarely if ever misses a tackle and his breakdown work is the envy of most openside flankers. He is the complete rugby player in every single aspect of the game and I'm honoured to have played and toured with the man.
"Best of all, he comes from the old school; pragmatic in defeat, humble in victory and always tremendous fun off the pitch. He was one player I relished shaking hands and socialising with after the battle and I'll have to confess he was equally good off the pitch as on it. Great company always!" laughed the Lions openside.
"It doesn't matter who you support, I guarantee you'll be shouting Drico on during the weekend. He's one of those players that transcends national allegiance and I am sure that his team mates will give him a home finale befitting of the great man's contribution to the sport.
"It's the end of an era for sure.
"Ireland will summon every sinew and fibre to put on a display fitting of his swansong in front of his adoring home supporters and, on the basis Ireland will be in party mood all weekend, I predict this will be a big win. I will take the Irishmen by a 20-25 point margin, with the streets to sing all night in praise of one of the greats!"
We thank Martyn for returning to Expert Witness and taking time to speak with us. We will be back next week with another former star of the game to preview the finale of the Six Nations season.
A gifted footballer, openside flanker Martyn Williams was capped 100 times by Wales and started four Tests for the British and Irish Lions over three tours. He is a respected commentator on the game and now heads up Financial Services specialists Castle Court Wealth Management.
Martyn was talking to James While.