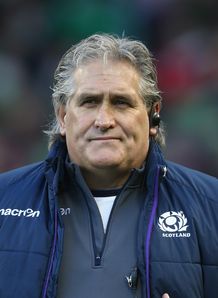 Scotland boss Scott Johnson has dismissed those who criticised him following the embarrassing Six Nations loss to England.
Scotland were shambolic in the 20-0 loss two weeks ago at Murrayfield, with Johnson coming in for criticism from many figures in the game including former England boss Clive Woodward.
A possible Wooden Spoon decider against Italy on Saturday now looms, with Johnson receiving further criticism after dropping number eight David Denton.
Remarking on his critics, Johnson underlined that he would not be changing his coaching style and that the thoughts of others outside the Scotland camp were irrelevant.
"I haven't given it a second thought to be honest," said Johnson.
"All I care about is the team - did we perform well? We didn't. Should we be disappointed? Yes we should.
"It's amazing - the people that judge you the most know you the least.
"I am happy with who I am. I'm not changing. And I don't really care what they say about me.
"Everyone is entitled to their opinion, I'm not going to hold it against them. The people I care about are the people that are close to us."