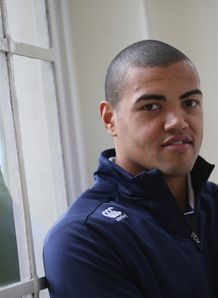 England's new outside centre Luther Burrell has the "utmost respect" for Brian O'Driscoll, but will look to leave an early mark on him this weekend.
Burrell has faced O'Driscoll twice already this season in the Heineken Cup for Northampton against Leinster, but knows facing the Irish legend in a Test will be on another level.
Burrell though will not be intimidated by the 34-year-old veteran, instead seeking to leave an early impression on O'Driscoll whether in attack or defence.
"I'm not going to do anything that will be detrimental to the team," Burrell told the BBC.
"But if it comes that I've got an early touch on the ball and running down his channel, then I'll do that at 100%, as I will when it comes to defending."
O'Driscoll will equal George Gregan's world record of 139 Test caps should he play on Saturday, having sat out training on Tuesday due to a stomach bug.
"He's a massive icon in British rugby, and he's done a lot for the game," added Burrell.
"This weekend will be his 139th international cap, and that's a magnificent stat.
"I've got the utmost respect for him, and it's going to be a huge honour to play against him, but come game time that's going to have to go out of the window and we'll be enemies.
"Hopefully I'll be able to have a chat with him and a catch-up after the game."