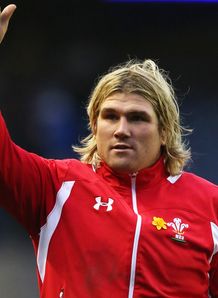 Related links
Teams
Wales hooker Richard Hibbard has countered England coach Graham Rowntree's comments over the refereeing of the scrum in Cardiff.
The Welsh front row were awarded nine scrum penalties in the championship decider, with Rowntree bemoaning the officiating by the referee Steve Walsh.
Hibbard however believes the comments were simply made out of frustration and mean little to the Welsh camp.
"I can't comment on that (Rowntree's remarks), but no-one would be happy to lose a game that heavily and got dominated at the set-pieces. He is looking out for his players ahead of their next game," said Hibbard.
"I would like to think we are the most honest scrum around, so to say they were conned is just water off a duck's back for us."
Hibbard returned to action for the Ospreys on Friday in his side's comfortable 62-17 win over the Dragons, with the the hooker stating that the Ospreys must win their remaining four matches.
"We need a full house of four wins from our last four games," added Hibbard. "We don't want to leave it in anyone else's hands.
"It will be tough, we don't have any easy games, so we are not taking anything lightly. It was magical at the stadium last week with the lights going out for us to lift the Six Nations trophy, but we are under no illusions we are going there to do a job and push for a play-off place."