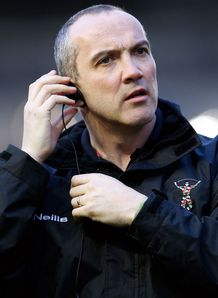 Related links
Teams
Harlequins director of rugby Conor O'Shea has called for greater consistency in key matches following England's loss in Cardiff.
Referee Steve Walsh has received criticism from the English camp over his officiating of the scrum, and whilst O'Shea sympathises with top referees, the former Ireland full-back feels there is a need for more accurate decision-making in key fixtures.
"Being a referee is the hardest job in the world but what infuriates people is when a call is made and it is quite obviously a guess and games change on those decisions," said O'Shea.
"You can't get every decision right but it is having that consistency. When you make a decision you can't just think something has happened.
"Because a scrum disintegrates one way, is that because it is someone pulling the wool over your eyes and getting away with it? A summit on what's going on (could solve it). It can be difficult after you lose a game to say what you want to say.
"The big thing is you want massive consistency and both sides to be treated equally and in a manner that will give them an equal opportunity within the game.
"Will there still be decisions that are wrong? Of course there will. We all make mistakes. That is fine.
"I can understand where people come from when they see consistent officiating of one side over another. I am not saying that in relation to last week's game but it does happen.
"We are from a club where our biggest area is the breakdown. The scrum is massive and I know it is the current blight. It has become an issue.
"But we want to play quickly and we want to make sure the tackler releases and rolls away to free up the breakdown and give more latitude to the attacking team.
"When a turnover that should be a penalty to one team ends up being a try for another, those are massive things.
"If I was on the working party that is what I would be banging on about."