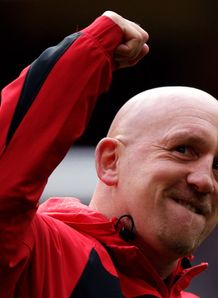 Related links
Teams
Wales defence coach Shaun Edwards has revealed that he considered quitting the sport after being snubbed for the Lions tour.
Edwards was part of the coaching team on the 2009 tour to South Africa, but was overlooked for this year's tour to Australia by fellow Wales coach Warren Gatland.
With Wales now having not conceded a try for six hours since their opening match of the championship against Ireland, Edwards revealed that the title is special considering the events of the last few months.
"This one (title) is special for a personal reason, if only because it wraps up a period which started in a dark place," said Edwards in the Guardian.
"I've had plenty of highs in my professional life - 42 medals as a player, 11 trophies in 12 years as a coach - but the time that tested me most was the three days after discovering that I wasn't going to be part of the Lions coaching squad this summer.
"Whereas 2009 with the Lions in South Africa was one of the big highs, hearing that I was not going to be part of the set-up in Australia made me want to chuck the whole lot in.
"There were ideas of turning my back on union, going back to league, possibly even leaving the country to re-learn my trade as an assistant coach with the ARL.
"It took me 72 hours to banish those ideas and, on Saturday, among the Welsh players and fellow coaching staff, I understood why I did. They've been great to me, treating me as one of their own and it's a lucky man who can be part of such a set-up."