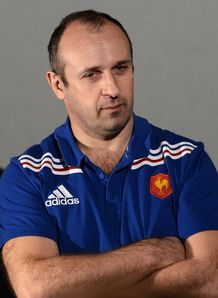 Related links
Teams
France coach Philippe Saint-André has laughed off criticism of his selections by former England boss Sir Clive Woodward.
Saint-André, who moved last Sunday to dispel rumours that he could resign because of the poor campaign that has seen les Bleus left win-less in four matches, has kept faith with the half-back pairing of Morgan Parra and under-fire Frédéric Michalak for Saturday's crunch Six Nations clash against Scotland.
Saint-André took aim at England's 2003 World Cup-winning coach, who had criticised him for staying loyal to Michalak, who was France's first choice at the 2003 World Cup and had a dreadful game in the semi-final which the French lost to England.
"For the past four or five years our friend Clive Woodward has been involved in athletics," said Saint-André , who cut his teeth as a coach with Gloucester during the Woodward era.
"He is no longer involved in rugby.
"I know Clive well. I respect his work and I worked with him when I was in England. He knows also that a national coach is a difficult job, that one has to take risks, to innovate, to find and put together a new squad in order to try and be better in the future.
"When he began his job he left for Australia with a very young squad, and they lost by between 70-80 points (76-0 in June 1998).
"He didn't win many matches at the beginning, but he believed in his players and they were world champions in 2003.
"As for his criticism of Frédéric Michalak he probably does not know that 80 percent of the fly-halves in the Top 14 are foreigners.
PSA has made however made three changes to his team with South African born flanker Antonie Claassen, new Caledonia-born lock Sebastien Vahaamahina and Toulon centre Mathieu Bastareaud coming into the starting XV.
Vahaamahina and Claassen, who will be winning their third caps, were given the nod by Saint-André because of the dreadful weather forecast for Saturday.
"They are predicting a lot of rain for Saturday thus we preferred to add the extra power of Sebastien Vahaamahina and Antonie Claassen," said Saint-André .
A decision on the participation of replacement centre Florian Fritz, who has a for infection and has not been able to train, will be taken on Friday.