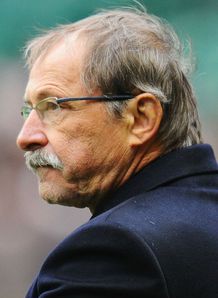 Related links
Teams
Italy head coach Jacques Brunel praised his side's character and desire to fight for the result in their loss against England.
The Azzurri produced an exhilarating second half performance to leave the home crowd nervously checking the clock as Italy hunted for their first ever victory over England, before ultimately falling short.
"They were two very different halves. We defended well when England had a lot of possession and we nearly scored a try in the first half," said Brunel.
"In the second we showed character and that we wanted to fight, but England were better disciplined than we were.
"What changed from two weeks ago was we were better physically and we were fresher - we were not fresh enough against Wales.
"Up until Wednesday we tried to work less, so that we were fresher towards the end of the match and it paid off.
"We are still looking for the balance between attack and defence - we played well in the second half but there were still issues with the lineout. It's about the quality of our game, and we need to manage the balance better.
"We are on the right path, but we have to work on the way we impose our game. There's always something to fix from one game to the next but we are going in the right direction."
Italy hooker Leonardo Ghiraldini stated that his side need to adapt better when expected to produce results, after again impressing when being labelled as underdogs coming into Sunday's match.
"Sometimes we put ourselves under pressure, but we need to keep believing in our game and be confident. We need to be cautious of the fact that we can make things difficult for other sides and win matches," said Ghiraldini.
By Ben Coles
@bencoles_