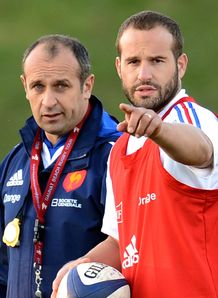 Related links
Teams
France coach Philippe Saint-André says France must produce a complete performance to pick up their first win of the Six Nations.
Les Bleus face Ireland in Dublin on Sunday having lost their first three matches in this year's championship to Italy, Wales and England - with Saint-André under heavy pressure to produce results.
However the former Test wing believes his side have the talent to be able to reverse their fortunes this weekend, but must perform for the duration of the match.
"We need to find an 80-minute performance. At the moment we aren't doing that," said Saint-André.
"The role of the France team is to win and win in style. But right now, in our situation, if we could sign for a 3-0 win we'd sign straightaway."
"We believe in the team. It's in a difficult moment and we're going to see the true face of this team.
"It's up to us to raise our heads. We've had a good week of training and a good session this morning.
"We have to force our destiny, we have missed a lot of realism in the first three matches. We have to score when we're on top and let in as few as possible when we're under pressure. We have to be better defensively."
"We need to win the match in Ireland with lots of appetite, lots of ambition, and above all a performance of a very high level."
One surprising change to the French starting XV has been replacing Francois Trinh-Duc with Frederic Michalak, with the latter struggling off the bench against England at Twickenham.
"I have spoken with Francois and he knows why (he has been left out). I prefer to explain these things in private," said Saint-André.
"I think I've read that he wasn't happy with his defensive performance, and Frederic had been excellent in November. It's not a punishment.
"[Michalak and Parra] have already played together against Samoa in November.
"For the Ireland match, we wanted to have two goal-kickers. Fred will be the number one kicker, Morgan will take the kicks from further away because he has five to 10 metres more in his legs.
"But we are still in a construction phase and it isn't extraordinary for us to look to test the half-back axis."