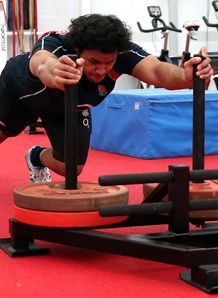 Related links
Teams
Wasps number eight Billy Vunipola admits his rise to the England squad is "unbelievable" after being hospitalised last year.
Set to be re-united with his brother at Saracens next year, England prop Mako Vunipola, Billy contracted discitis and then pnuemonia in hospital before recovering to star for Wasps in the Aviva Premiership this season.
"I was in hospital for quite a long time so to be sat here now (alongside Mako and in the England squad) is quite unbelievable," said Billy Vunipola.
"I had discitis. I got pneumonia and then I burned my back with a hot water bottle so I was in there for quite a bit longer. I fell asleep on the hot water bottle and forgot to put the outer cover on.
"When I came out of hospital I had to go on antibiotics and go in for regular checks.
"I am not sure I am about to be an England international just yet, but the prospect of it is really exciting."
"I phoned Billy when he was in hospital to ask if he was okay. When I went down to see him he asked me to bring him some food so I brought him KFC," said Mako Vunipola.
"I walked straight through the hospital with it and the nurse was like 'I thought you were supposed to be rugby players'!
"We were bigger than most of the boys but we felt our weight was holding us back a bit. We knew the work we would put in would give us a better chance (of making it at the highest level)."