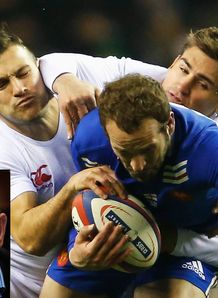 After another compelling round of Six Nations rugby, France are left rooted at the bottom of the table with only England left in the running for that elusive Grand Slam. Planet Rugby's Expert Witness caught up with the iconic Leicester Tigers' and England number eight Dean Richards to get his views on the third round of the competition.
With England and Scotland grinding out ugly wins in difficult conditions at Twickenham and Murrayfield, and Wales restoring some pride with their impressive win in Rome, the Six Nations has ebbed and flowed dramatically this season. Only England can claim to have exceeded expectations, leaving them unbeaten and with two more hurdles left on the run in to a possible first Grand Slam in a decade.
The Newcastle Falcons Director of Rugby Richards, a man with forthright views on the game, believes England, whilst impressive, profited from French selection issues:
"France finally selected something approaching their best starting XV for the first time this winter," explained Richards.
"It's true to say had that French side had two or three more games together as a team before meeting England, the result may have been completely different.
"However, I emphasise 'the starting XV', as the tactical substitutions thereafter had a great bearing on the result.
"France entered the final 20 minutes of the game with everything to play for, and a score behind England. As Stuart Lancaster was able strengthen his side with strong, intelligent and timely substitutions, Philippe Saint-André seemed determined (or should I say pre-determined) to weaken his on-field XV with his choice of replacements.
"Flood, Vuinipola, Youngs, Haskell and Care all upped England's pace, intensity and power. They added to the game, and the front rowers in particular made a big difference. Conversely, France removed Mas, Kayser and Dominguez, three players that had England's scrum in a lot of difficulty, took off a regular fly-half (Trinh-Duc) and replaced him with a man who plays at scrum-half for his club. It was almost as Saint-André had made up his mind about those replacements before the game and was determined to make them, come what may, and that cost him dearly.
Richards believes there are three key elements in getting substitutions right:
"It's a case of who, when and where (what position)."
"All of those three questions have ever-changing answers, and a good coach reacts to what is unfolding in the game situation. Pre-determined substitutions, save in the case of a player recovering from a lay-off, rarely pay off, and in terms of Saturday, the bench won the game for England, whilst the French coach could be argued as being complicit in his own team's downfall.
"By saying that, we should applaude England's adaptability and also their knack of emerging stronger in the final quarter. Lancaster would probably admit he got the Lawes selection wrong; blindside flank is a more technical position compared to lock and Lawes missed a number of tackles in the first half, and was in a poor defensive position for the superbly worked Fofana try. Aside from that, England will be very pleased to have emerged as victors.
"As a former number eight, I really enjoyed the fight for supremacy between the two outstanding exponents on the pitch; the power of Louis Picamoles and the work-rate and intelligence of the ever-improving Tom Wood. Picamoles does tend to drift in and out of games still, whilst Wood is the epitome of consistency and good decisioning. It was an epic battle within a battle, and a microcosm of the match itself" grinned Richards.
At Murrayfield, Ireland's woes continued and as did Scottish resurgence, with Jim Hamilton's gritty display epitomising the Scots' passion and determination.
"I think Scotland went into this game really fancying their chance. They knew Ireland are being forced into a re-building stage and they took advantage of this. Scotland's execution and final passing was, being blunt, superior to Ireland's and the Scots were more clinical in their play. The Scots chose their time to strike and were impressive. This was a Scots side that believed they could win, and that was a shift in thinking for them.
"Ireland, as has been discussed before, have a need to blood young talent now. They've held on to some of the old guard a season too long and that's showing. There's a steep learning curve to international rugby and younger players need to be given time to adapt," explained Richards.
"I was also very impressed with young Matt Scott in the centre for Scotland, who is a powerful and direct player. He's a good addition to their squad, and will take pressure off the industrious Sean Lamont alongside him.
In Rome, a resurgent Wales sauntered past a committed Italian display, but without their talismanic captain Sergio Parisse, Italy looked short of attacking ideas and defensive experience. Richards was quick to point out that Wales' display had put them back on the road to winning ways and will have calmed a lot of nerves in the Principality:
"The Welsh knew that was a banana skin of a game, and on current form, they also knew Italy can make the game difficult for the best of sides," he commented.
"However, the Welsh front row were superb in their destruction of the experienced Italian scrum and, in the back row, Ryan Jones continued his impressive form.
"Italy, on the other hand, were competent, but lacked the x-factor that Parisse brings to the team. I believe that every unavailability, whether through injury, suspension or form, should be viewed as an opportunity rather than a problem, and I felt the young Ratu Vosawai has a very impressive debut for Italy. Strength in depth is always an issue for the Azzurri, and Vosawai will augment their back row options, alongside the ever-impressive Zanni and of course their suspended skipper"
"I was surprised with the amount of dominance Wales showed in the scrum against an Italian front row with over 300 caps, but that shows the importance of scrumming as a team. The Welsh didn't create as much as they may have wished and the Italian half-back mix up for Jonathan Davies' try was almost comedic," laughed Richards.
One feature of all three games was the see-saw battle in the scrummages. Richards believes the new scrum calls (Crouch, Touch, Set) are not helping the players in the way the law makers intended:
"There appears to be a great variance in the 'cadence' or rhythm of the referee calling the engagement. Craig Joubert was very slow in his timing of the call in the England game, although he was consistent. Other referees call the scrum quicker."
"This variance in the call is the problem, in my opinion."
"I don't believe the referees are being sympathetic to the physics of scrummaging, and that may be because they do not understand them," observed Richards.
"As a front row, during that period from Crouch to Set, you have about 600kgs pushing you forward. You are holding that back, you are holding back the power of two locks and two flankers, yet you still want to win the hit. Any slowness or pause in the ref's call can unbalance the whole hit and render the scrum either useless or a totally one-sided affair. I am not sure of the answer but the sheer number of free kicks we are seeing for engagement offences underlines the point that the new calls are not working".
Looking overall at the three games, all were fiercely contested and it's true to say there's not been an easy game in this year's Six Nations. Richards believes that there's not as much to choose between the sides as the table might suggest.
"Each side is capable of winning on their day and there's not too much to choose between all six teams. England are the most organised, the best in defence and also the better managed, and that's why they are rightly at the top of the table. But don't denude the difficulty of their next two games; Italy will batter and bruise them, whilst no English side ever travels to Cardiff without some trepidation.
"It will be a fascinating climax to a hard-fought tournament, and I'm looking forward to it."
That's it for this week's Expert Witness and thanks to Dean for taking time out from his Falcons' duties to join us. With the competition taking a short break, next week's column will feature the star of Woman's international rugby, England Flank Maggie Alphonsi, with her views on both the men's' tournament, and of course the progress of the Woman's competition.
See you then.
Expert Witness is compiled by James While