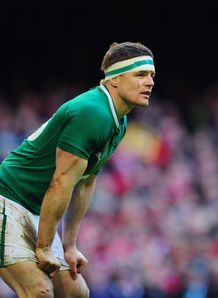 Related links
Teams
Also see
Ireland centre Brian O'Driscoll has admitted to losing his focus in the game against England following the birth of his daughter.
O'Driscoll became a father for the first time on the morning of the match with England and put in a subdued performance in Dublin, which the former Lions captain put down to his mind being elsewhere following the morning's events.
"I don't even remember a lot of the game and I was in my own world for much of the time," said O'Driscoll to The Daily Telegraph.
"It was the sort of match that needed a bit of leadership from me but which I wasn't quite able to deliver as I usually would have hoped to have done. It was all quite bizarre. I didn't make any great errors but I didn't add a huge amount either. It was a day of extremes."
"I saw Amy's name flash up and I knew we were under way. She was unbelievably calm, a lot more so than I was. I rushed to the hospital, Sadie was born [by caesarean section], we all had an hour together and then I had to pack a bag and go to play rugby.
"It was very weird. The management had given me until 1.15pm. I was back at the hotel about midday. I didn't want to talk to anyone but I had to wolf down my food to refuel in time for kick-off.
"I was playing a game of that importance and yet, in an instant, my whole perspective had changed. This most wonderful thing had happened. Everything else paled into insignificance.
"Any loss to England is a sore one, but right after the game my mind switched back over to my wife and newborn daughter.
"I went straight there and didn't give the game another thought. At about 11 that night I met up with [former Ireland team-mates] Shane Horgan and Denis Hickie for a couple of beers to mark the occasion. It had been an unbelievable day, a draining day but the most amazing day imaginable.
"That was the greatest achievement of my life. Rugby has been and is important. But it's eclipsed at every level by a long way when you have a child. Games will come and go but some things are here to stay. It dominates your life. I would have thought a lot about rugby matters at this time of year. Now I don't have time to think about rugby at all. That's no bad thing, perhaps, with the results we've had over the last couple of weeks."