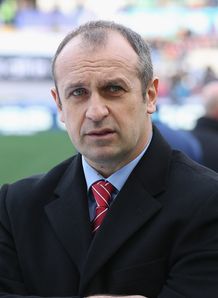 Related links
Teams
France coach Philippe Saint-André blamed silly mistakes and his side's high penalty count for their loss against England at Twickenham.
The visitors had the better of the first half, but struggled at the breakdown as the match wore on and only added three points to their total in the second half, whilst England scored 14.
"It was much better than the last two games, but again we have lost and we can't accept this. We made too many silly mistakes, we were penalised a lot and I don't know why so I need to watch the video," said Saint-André.
"I need to congratule England. They were very pragmatic - it was a tough game and very physical and in the end they have won three games and we have lost three games.
"The last 20 minutes we missed too many chances - we had scrums and lineouts in their 22 and we made mistakes.
"It's a shame, but we have a lot of young guys who were playing at Twickenham for the first time and it's important for us to build the squad for the next Rugby World Cup.
"We expected a little bit more from our bench. So many times we tried impossible offloads and lost the ball in the contact area and England didn't do amazing things, but they were accurate and we were not accurate enough.
"In the ruck area we were quite strong, but we were penalised a lot. We had an opportunity at 10-9 for more points when England were not as confident, but we didn't take it. We have to learn from this and carry on.
"We are very sad, but we know this team have a lot of potential and each game we will get better. Losing is terrible, but the team must keep this memory and work to improve. The small details at the moment are not on our side.
Saint-André did reserve praise for centre Wesley Fofana, who scored a spectacular try in the first-half down the left wing and evading four English tackles on his way to the line.
"It was a fantastic try by Fofana. We know he can play in the centre but he did well on the wing last November for us. In the Top 14, 70% of our wingers are foreign and like with our fly-halves we need to be careful that there are enough opportunities for French players."
by Ben Coles
@bencoles_