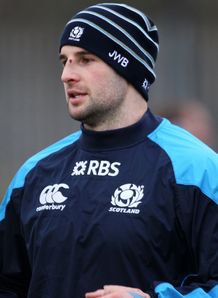 Related links
Teams
Scotland number eight Johnnie Beattie insists his side are in contention for the Six Nations after defeating Italy.
Four teams are now level on two points behind England who top the table, and Beattie believes that Scotland can increase their chances further with victory over Ireland when the Six Nations returns in two weeks.
"Everyone is in it, it's a very open championship, so there is absolutely no reason why not," said Beattie.
"The next challenge is very different with Ireland around the corner, but we are looking forward to taking it on and seeing how far we can go.
"The Irish team's attack is very different, there is maybe a bit more subtlety.
"There will be different types of test but if we can get our line speed, get off the line and chop people the way we did against Italy, there is absolutely no reason why we can't replicate what we did on Saturday.
"The Italian forward pack is an absolute juggernaut so to defend in the manner we did and to hold them out was fantastic."