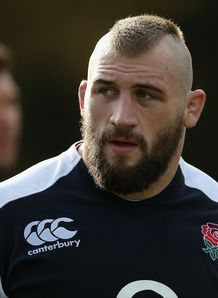 Related links
Teams
Having lost his bushy beard following criticism by Sir Clive Woodward, England prop Joe Marler is ready for Sunday's clash in Dublin.
Woodward's odd comments came after England's win over Scotland last weekend, although a fresher-faced Marler is uncertain whether it will add some extra speed to his game.
"I haven't got a beard any more and have a bit of stubble because it apparently makes you go faster," said Marler.
"So, we will see on Sunday whether I will be skinning Brian O'Driscoll on the outside. It's unlikely.
"Clive [Woodward] is entitled to his opinion. If I am scoring a try from 50 metres out and skinning everyone, maybe he has got a point!"
Former Harlequins team-mate Mike Ross will be up against Marler on Sunday, with the young England prop ready for the challenge.
"I know he's turned into a pretty reliable and tough scrummager for Ireland through playing week-in, week-out for Leinster," added Marler.
"It will be a really big test. There are a lot of tight-heads out there who are pretty wide. He's no different.
"He's a quiet guy and I was in the academy. That's how the system works. You have to earn your stripes first."
England opened their campaign with a strong performance against Scotland and travel to Dublin with plenty of confidence, but not arrogance as some quarters have suggested in the past.
"Ireland pose different challenges to Scotland," stated Marler.
"We did pretty well for 50 minutes against Scotland but we know there were times when we could have been more clinical.
"There are other areas to improve on and we will try to do that against Ireland.
"It's a new era in the England camp and we are looking ahead. We are looking ahead to an exciting challenge against a tough Ireland team.
"I have no interest in the history of previous games like that. I was not involved.
"The experiences we went through in South Africa are something we have learned from as a group. They are our 'go to' memories for us to kick on from."