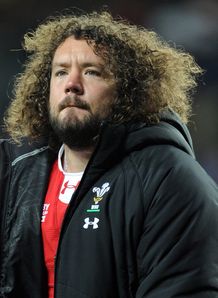 Related links
Teams
Wales prop Adam Jones is confident his side can reverse their horrific run of losses and beat France in Paris on Saturday.
The defending champions suffered a 30-22 defeat to Ireland in their opener at the Millennium last Saturday but Jones feels their current predicament is "definitely fixable".
He admits though that he expects a difficult task against les Bleus in Paris.
Wales have won only three times in the French capital since 1975 and have lost their eight Tests.
"It's about playing more sensibly," said Jones.
"Things are definitely fixable.
"People have been coming out after the past eight games and saying we do this in training and we do that in training, but you can be the best trainers in the world.
If you don't do it on the field, you are are going to come off second-best.
"France? In Paris? It's not going to be easy, is it?
"I wouldn't say we are lacking confidence going out there, though you guys (the media) probably think we will be.
The Grand Slam and Triple Crown are out of reach for us now, so we may as well go out there and try to play as much rugby as we can.
"Everyone is disappointed, but what's good about this group is there are a lot of young boys in it and everyone is keen to improve and do well in the next game. That's all you can ask for.
"There is no point crying over this now. We have to work hard in training and go out to Paris without fear.
"We know how hard it is going to be out there. We just have to play a bit smarter and play to our strengths a bit more."