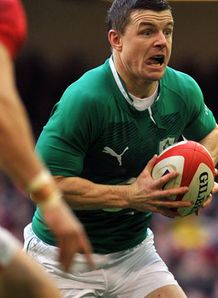 Related links
Teams
Ireland centre Brian O'Driscoll believes it is imperative that they capitalise on their fine start in the Six Nations.
O'Driscoll put in a superb performance during his side's 30-22 win over Wales and wants them to build on that success during the rest of the tournament.
"It was a very physical game, real Six Nations stuff which you expect when you come to Cardiff," he said.
"We'd lost the last three to Wales and we just felt as though we needed to stop the rot.
"It's a great day, a good start for us in this Six Nations. It puts us in a good place with England to come next week.
"This Championship's about momentum. If you lose the first you're in trouble, if you win you're in a good spot. We have to build on this.
"The understanding from winning the Grand Slam in 2009 is that even when you're not great, you have to be good. Consistency will be the key for this Six Nations."
The veteran midfielder, who won him the official man-of-the-match award, sustained a head injury during the win over Wales but is confident of being fit for this weekend's clash against England in Dublin.
"The big thing is trying to be fit and getting as close to 100% fit as you possibly can when you take to the pitch," he revealed.
"It felt good today (Saturday), the ankles both felt good, and all the other bumps and bruises felt good so if you can start games that way, you've every chance of putting in a half decent performance.
"Today a few things ran for me and I managed to get across the try-line but it doesn't matter for anything if we didn't win the game.
"We won that and I'm delighted, like everyone else is."