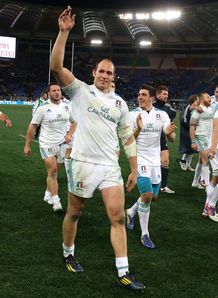 Related links
Teams
With Scotland up next for Italy at Murrayfield, coach Jacques Brunel said it will soon be time to keep the emotions in check.
Brunel oversaw only Italy's second victory over Les Bleus in the Six Nations, after the hosts held on for a deserved 23-18 win on Sunday.
The former Perpignan coach was made to sweat as France threatened to snatch victory after replacement fly-half Kris Burton's drop-goal gave Italy a five-point lead with 12 minutes remaining.
Italy have never won more than two matches in the tournament and he feels the time has come when the Azzurri must move up to the next level.
"The team has made a lot of progress in recent years and today we gave a good image of our rugby, and showed we can play with character," he said.
"I was in emotional turmoil the whole match. France are a great side and it's never an easy game. The match could have gone either way as we saw.
"The team has really grown and today they demonstrated their strength. It's the right time to manage Italy.
"We've worked a lot on our team and a lot on our game and I liked a lot of what I seen today."
Scotland are next up - the Italians have a decent record against them but they have only won once at Murrayfield.
"Everyone says Scotland are not a great team at the moment but they are a hard team to play against, especially at Murrayfield, and last year they gave a lot of teams problems," said Brunel.