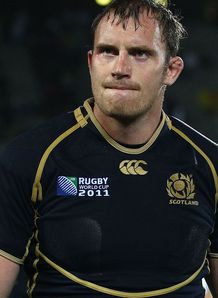 Related links
Teams
Scotland lock Alastair Kellock admits that it would be "unbelievable" to defeat England in the first match of the Six Nations.
Scotland have not won at Twickenham since 1983 and lost in their last match against Tonga, a result that saw then coach Andy Robinson quit his role.
Now under interim head coach Scott Johnson assisted by Dean Ryan, Kellock admits a win would place the squad amongst the legends of Scottish rugby.
"It is a huge game. The first game of the Six Nations is always massive, so why not have it at Twickenham?" he said.
"The last game we had for Scotland was a huge disappointment, for everyone concerned. But this is now an opportunity for us to put it to bed.
"If we win, it gets us off to a fantastic start in the competition. It's key to get a bit of momentum at the beginning.
"It would be unbelievable if we did it. I'd love it. I've been lucky enough to play England a few times - beaten them up here, drawn with them up here and pushed them close down there when Max Evans scored that great try when he kicked it over the top in 2011.
"We had a disappointing result in Auckland in the World Cup when we were fantastic for 70 minutes but they scored a breakaway at the end.
"They are all special games but to win one down there would put you in among the legends of Scottish rugby.
"Scott hasn't changed much. Rugby is rugby, after all. But he has got his own ideas and Dean Ryan has also come in with a few different things as well.
"It's about making improvements. They have done their analysis on the way we play and they have said that we can change things subtly to make us better."
Meanwhile, Scottish Rugby has announced that it has secured the biggest sponsorship deal in its history.
New kit partner, Macron, will come on board in the summer to become official kit supplier for all Scotland representative teams and the professional clubs, Edinburgh Rugby and Glasgow Warriors.