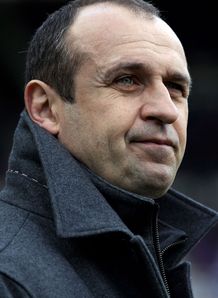 Related links
Teams
Also see
France coach Philippe Saint-André is totally opposed to the proposed introduction of bonus points for the Six Nations Championship.
The 45-year-old, who is set to take France into his second Six Nations as coach, said he would feel cheated were his side to win the Grand Slam but another team finished top on account of accruing more bonus points.
It was revealed earlier this month that consultation report has been drawn up for the six countries to discuss whether to bring in the bonus-points system which would see sides earn points for scoring four tries and losing by a margin of seven points or less.
On that basis France's Grand Slam in 2002 would have not been enough to see them top the table as bitter rivals England would have edged them courtesy of four offensive bonus points.
All the British Isles major club tournaments as well as the European Cup and Challenge competitions award bonus points, but the Six Nations has consistently refused to do so, declaring the history and success of the tournament meant change was not necessary.
The report says that foremost among the countries wanting a full debate on the matter are England.
However, Saint-André, an Anglophile having spent more than eight years coaching across the Channel, believes imposing bonus points would destroy the whole ethos of the competition.
"I like the system as it is important for World Cups and club competitions," the 69-time capped former France wing and captain told AFP on Tuesday.
"However, maybe I'm old school but I wouldn't feel at ease if a team won the Grand Slam and don't win the Six Nations because another team gets more points on account of bonus points.
"I would feel cheated if that were to happen because it goes against the spirit of the competition.
"Me, I came into rugby because as a child I used to watch the (then) Five Nations and it was all about either the Grand Slam or the wooden spoon."